Exciting News
---
Exciting news from a very wet and windy Somerset.
Yesterday I had an epiphany. A glorious moment when all my ideas seemed to come together and put a plan in place. And with the support of the wonderful husband I am now taking action.
Now I don't want to spill the beans to soon as this is a work in progress but there will be some new developments coming soon.
Now I know you will have questions such as …
So how is this exciting for me?
Why not tell us now?
I would tell you more but the name of Project X is yet to be decided.
As for what's in it for you – well once it is announced I am sure you will love it!
Keep checking on Facebook and Instagram for further updates.
The links are http://www.facebook.com/arewemad2 and http://www.instagram.com/arewemad2
Of course I will also update on here as soon as possible
Thank you for reading
---
As a  little thank you for reading this sort post I am bringing you this wonderful opportunity for your children.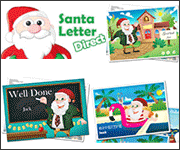 Just click on the link and look at the wonderful products available on this site.
Book your letter and text from Santa plus lots of other cool items.
Keep in mind that we may receive commissions when you click our links and make purchases. However, this does not impact our reviews and comparisons. We try our best to keep things fair and balanced, in order to help you make the best choice for you.
Thank you once again for reading.
I will be back soon with news!
Take care
Much love as always
S x